Friday, March 05, 2010


梁文音 - 哭过就好了
不喜欢怀疑什麽
并不表示我没有感受
看你微妙的变化慢慢不同
我不是生气只是心痛
最讨厌被误会了
但越解释越觉得难过
你可以说人会变
但不能说你会这麽做是我的错
哭过就好了
伤都会好的
这样相信所以深呼吸着割舍
爱是为了拥抱为了牵手
不是为了争吵为了调头
哭过就好了
痛都会走的
记忆有限所以它会淘汰坏的
失眠听歌想念虽然苦涩
还是谢谢你让我长大了
越多美好堆叠的过往
想忘就得推倒更大的悲伤
要找勇气却不在口袋或手上
但它一定在我身上某个地方
Tuesday, April 10, 2007
Baby Kievan is: 2 years & 4 weeks old
"Why don't you update your blog anymore?"
People asked.
"I'm just busy."
I would reply.
And I can't help but wonder if anyone knows there is something amiss. Because I retract into my own darkness when i'm afraid. Because I don't know how to face the world when i'm disconsolated. Because I can't waver in my step towards recovery. That's why I didn't utter a single word. Or a soundless plea.
Hoping that silence could by my escape. It was hardly even a refuge.
Nothing but the myriad of emotions drowning me, trying to steal my last breath.
I have exhausted all my means.
Wednesday, February 14, 2007
Baby Kievan is: 1 year, 11 months & 1 day old
Midnight madness.
Clara babe.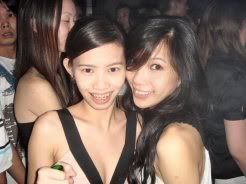 Zhongying dear.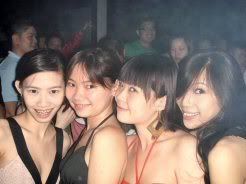 And my Meiyi darling.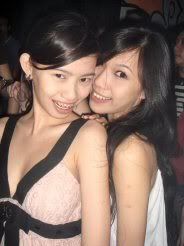 My dear.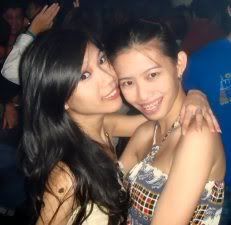 Still my dear.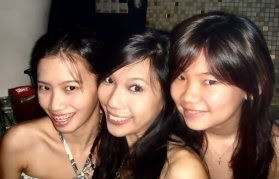 Last but not least, a family potrait of the mambo laydees.
Sinful and decadent.
But loving every minute of it as long as you girls are there.
Wednesday, January 24, 2007
Baby Kievan is: 1 year, 10 months, 1 week & 4 days old
In your life, you'll take note of many people. One whom you shared something special, one who will always mean something. There's the one you first kissed, the one you first loved, the one you lost your virginity to. The one you're with currently... And the one that got away.
Who is the one that got away? I guess it's that person you were with which everything was great, everything was perfect, but the timing was just wrong. There was no fault in the person, there was no flaw in the chemistry, but the cards just didn't fall the right way, I suppose. Ending up with someone, finding a longtime
partner that is, does not lie merely in the other person. An equal part, or maybe even the greater part, has to do with the matter of timing. It has to do with you being ready to settle down and commit to someone in a way that goes beyond the little niceties of giddy romance.
How often have you gone through it without even realizing it? When you're not ready to commit in that mature manner, it doesn't matter who you're with, it just doesn't work. Small problems become big; inconsequentials become dealbreakers simply because
you're not ready and it shows. It's not that you and the person you're with are not good together; it's just that it's not right yet, and little things become the flashpoint of that fact.
Then one day you're ready. You really are. And when this happens you will be ready to settle down with someone. He or she may not be the most perfect, they might not be the brightest star of romance to ever have burned in your life, but it will work because you're ready. It will work if it's the right time and you will make it work. So that day comes when you're finally making sense of things, and you find yourself to be a different person. Things are different, your approach is different, you finally understand who you are and what you want, and you've become ready because the time has truly arrived. There's no telling when this day will come. Hopefully you're single but you could be in a long-term relationship, you could be married with three kids, it doesn't matter.
All you know is that you've changed, and for some reason, the one that got away, is the first person you think about. You'll think about them because you will wonder, "What if they were here today?" You will wonder, "What if we were together now, with me as I am and not as I was?" That's what the one that got away is. The biggest "What if?" you'll have in your life. If you're married, you'll just have to accept the fact that the one that got away, got away. No matter how fairytale-liked you think your marriage is, this can happen to the best of us. But hopefully you're mature enough to realize that you are already with the one you're with and this is just another test of your commitment, one which will just strengthen your marriage when you get past it. Sure, you'll think about him or her every so often, but it's alright.
Maybe the one that got away is the one who's already married. In which case it's the same thing. You just have to accept and know that your memories of that person will probably bring a nice little smile to your lips in the future when you're old and gray and reminiscing. But if neither of that is the case, then it's different. What do you do if it's not yet too late? Simple... find him or her. Because the very existence of a "one that got away" means that you'll always wonder, what if you got that one? Ask him or her out and say,
"Hey you, you're the one that almost got away."
PS: Got it out of Friendster. Sweet hmm?
Monday, January 15, 2007
Baby Kievan is: 1 year, 10 months & 2 days old
Minimal words, but pictures will tell a thousand tales.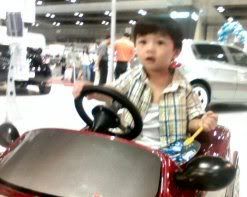 Baby at the Singapore Motorshow 2006, in a miniature Alfa Romeo. No, he's not a model, but lots of people did stop in their tracks to snap a picture of him. A great day with Joey and her boyfriend.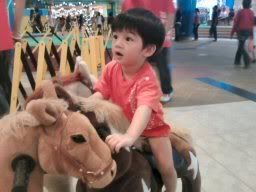 Baby at Downtown East, atop a toy horse. Need not fly miles away to have a good time, we already did, with my mother, grandmother, aunties and cousins. A heartwarming night of love.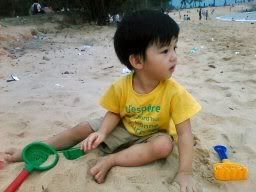 Baby at East Coast Park, enjoying the sand, sea and breeze. It was a fun day, filled with laughter and innocent happiness, in company of Meiyi, Jianjie and Weiren. We cycled (yes, I cycled my boy) and Kievan was the star for the day, with everyone's attention and concern on him.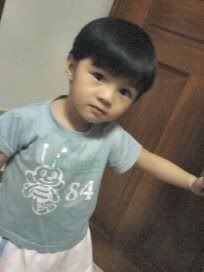 Picture taken by Clara at my place. Baby looks like he's posing, but he was actually holding my hand. Lala, managed to snap it in a very natural manner and I love it! It's my favourite picture for now.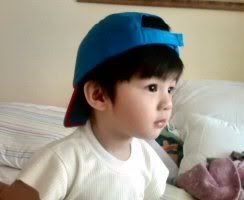 Picture taken by yours truly this morning. I woke up to him sitting beside me, watching Barney and wearing his cap. It was too adorable and I had to snap a picture of him. Anyway, the cap was given to him by Clara and Nelson. A blue Thomas & Friends cap. I think Clarence will like it... Heh.
What can I say? I love him so much, no amount of words can express how I feel.
The only thing in the world worth working for, worth fighting for, worth dying for.
My Kievan.
Sunday, January 07, 2007
Baby Kievan is: 1 year, 9 months, 3 weeks & 4 days old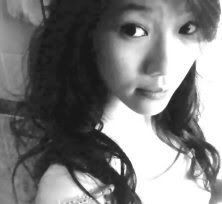 For everyone I love and care for:
Corrinne May - Safe In A Crazy World
i try to smile my tears away
i try to keep my cool
oh but one more door gets in my way
i feel like such a fool
trampled and bitter
my heart just wants to bleed
and stop believing in me

it feels like nothing is for certain
and that nothing comes for free
when they're lowering the curtain to the theatre of my dreams
i stumble and i crumble
and i'm sinking to my knees
but you you cradle me

you keep me flying
you keep me smiling
you keep me safe in a crazy world
you understand me
embrace my fragility
you keep me safe in a crazy world
and in your arms i find the strength
to believe in me again

noise keeps chasing me
no matter where i go
oh and life likes pretending that it's on a tv show
when it's hard to tell what's real
from what the world just wants to preach
you are the voice i seek

cause when i'm wrapped up in your arms
nothing else can touch me
what a wonderful way to recharge
i feel like i can breathe again
The road uphill will be rough, but what's tough, when I have you guys giving me a slight push when I start to falter. When I have you guys laughing and crying with me just so that I wouldn't be lonely doing it myself. What's tough, when I have you guys protecting my back with all that you can.
It makes me ashamed to even think that it will be a toilsome journey.
Friday, January 05, 2007
Baby Kievan is: 1 year, 9 months, 3 weeks & 2 days old
The clock insistently tapped out the seconds double quick.
tick. tick.
Like a foetal heartbeat.
tick. tick.
Time passed.
Her husband, her lover, her heart, had changed.
He would not remember the years they had together.
Would not remember the joy of them.
Had forsaken her, their child and the life they made together.
Such was his nature.
Such was her fate.
tick. tick.
She would have gone anywhere for him, done anything for him.
He had her heart, he was her all.
But he strode away, so carelessly.
And so she rebuilt her life on the ashes of the dreams
That he had burned beneath her.
tick. tick.
Love could be such a lie.
And she had no place and tolerance, for lies.
Memories would fade in time.
tick. tick.
He, nothing to her.
She, bittersweet in her lonely solitute.
All in time.
Monday, December 18, 2006
Baby Kievan is: 1 year, 9 months & 5 days old
Do you see stories in clouds?
I was able to tell stories through them at some point in my life. And without realising, I just stopped staring at the fluffy clouds to see if they tell me anything. Somewhere in between that space of time, did I stopped believing in fairytales? What took away my imagination? Or had I simply grew up?
So I looked up to the heavens and read. I read and read, till I conjured something that doesn't make much sense. But I was happy enough that I could still see something, anything in those soft white clouds. At that moment, I felt like 16 all over again.
"I am healing." I thought to myself, naively, just because I see something in the clouds.
So I looked up to the heavens some days later and started to read again. It wasn't white fluffy clouds, but dark threatening storm clouds. I read and read, and nothing conjured up in my mind. I panicked and wondered what went wrong. Felt like someone had stolen everything away again, right under my eyes.
But it was actually myself, cheating and disappointing my own delusional self. I can never find back that child-like innocence or the kind of simple trust or ingenuousness anymore. I can never laugh and play without feeling a heaviness in my heart too. I haven't felt real happiness for a long time. Who am I now?
And as I walked away, droplets of rain started to fall, my cheeks were wet, but no one will know whether it was the rain or my tears.
Wednesday, December 13, 2006
Baby Kievan is: 1 year & 9 months old
It was Mabel's wedding on the 9th of Decemeber. Attended without a date, but Clara and her cousin were kind enough to sit with me throughout the entire dinner. Sharing the table with us were 3 of Mabe's facilitators. Had very interesting conversations throughout the night, accompanied with champagne and a very good wine that Clara brought back from Australia. Tempus Two is the name. I am not a fan of red wine, and am very picky when it comes to liking one, but that wine had me so addicted.
It was a beautiful wedding. Nothing's as beautiful as witnessing so much love and hope between a loving couple. Mabel was a radiating bride and her husband was practically glowing. Of course Clara and I were wallpapers in our pretty dresses. *lol*
Proceeded to meet Meiyi and gang at Partyworld for some singing. Despite my hoarse voice and slight sore throat, I sang like nobody's business. Which of course, came out quite terrible. Hehe. It was a good night, minus the overwhelming fatigue that kept threatening to overcome me. Had supper, exchanged life stories, and headed home.
Something to spice up the post.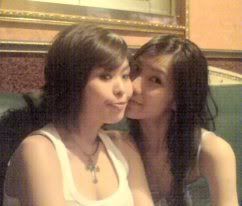 Clearest picture of the night and the best nonetheless. Me kissing Meiyi, and she pretending to hate it, thus giving a bird-like expression and a beak-like pout.
Oh yeah, and I have 3 brand new books.
The Devil Wears Prada
because I didn't manage to catch it at the cinema,
Tuesdays With Morrie
because I like it so much, and
The Five People You Meet In Heaven
because I suppose it should be good.
Satisfaction for now.
Monday, December 11, 2006
Baby Kievan is: 1 year, 8 months & 4 weeks old
Happenings @ Zouk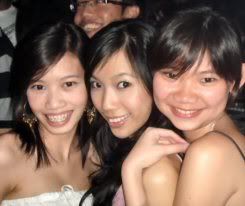 My girls.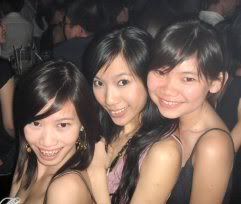 What would I be without them in my life?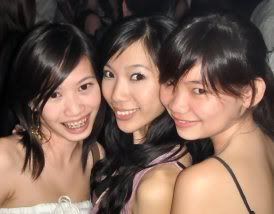 Cam whoring again before Zhongying leaves for the night.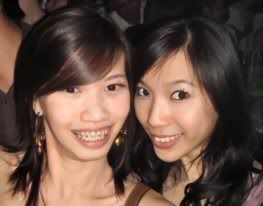 Zhongying and yours truly.
It was a crazy night, with too much to drink, too much fun, too much unnecessary emotions that had me tearing for awhile. Which sent my poor Zhongying into a shock, because yours truly seldom cries. I was so intoxicated that I can't walk straight or remember certain details of the night. But of course, I did manage to walk myself, give directions to my home, and puke neatly into the plastic bag provided. I too, mumbled ridiculous stuff to Lala, Nick, Jim and Weiren in the car, which I suppose they thought was very amusing. And of course, the climax of the night wasn't me, but my darling Lala. She, who was talking to me throughout the car journey to keep me awake and sane, ended up like this: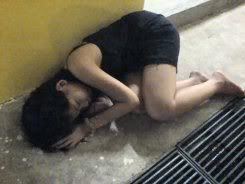 The Wasted.
*roflmao* I'm sorry babe. You know how much I love that picture. I totally didn't anticipate that picture when I woke up the next day. Naturally, it sent me into peals of laughter. Until now.
So girls, if I ever get wasted and sleep on the sidewalk, please take a picture of me and don't forget to adjust me into a beautiful pose if I'm not in one.